http://millersoils.co.uk/nanodrive.asp
We are very excited to announce Millers Oils is now available through MRP, the top motorsport oil from UK, is now available in NZ.
This oil is used through out Europe and USA in top level racing - WRC, Indycar, Porsche Series etc Its been proven on the race track time and time again.
Like & Share Millers Oils NZ Facebook page before 7th March to be in to WIN $165 worth of racing oil with the newest Nanotechnology.
https://www.facebook.com/millersoilsnz
We will be in touch with the lucky winner on 9th March 2016. Share to your friends and you will go into the draw twice.
(This promotion is only available to NZ/Australia)
Millers oils can be bought through our website, Toyspeed members receive a 12% discount off detail. Use the promotional code: toyspeed1
http://www.mrpltd.co.nz/index.php?cPath ... c4ff48810a
Millers' new
Nanodrive high performance engine
oil is an extension of their nano technology gear oil range. As well as all the normal lubricating, oily type stuff Millers claim this oil promises a number of improvements including, significantly reduced friction, reduced component wear, reduced heat generation, extended oil life and increased power output.
How's it work?
According to the scientific type-bods this new range uses 'spherical nanoparticle structures' in the oil formulation. These act to fill the rougher surfaces of metallic components by forming what they call a 'tribofilm' this makes the surfaces ultra smooth. It's this smoothness that reduces friction and gives the oil its performance characteristics.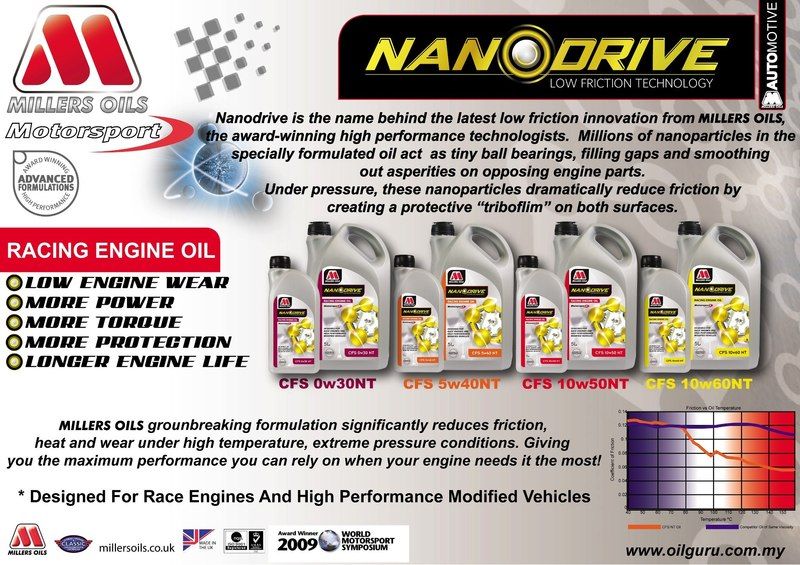 How much more power will Millers Nanodrive oil give you?
Check out the results of this test done by Fastcar Magazine.
http://www.fastcar.co.uk/2012/08/28/mil ... rive-test/
More independent tests comparing other leading brands
http://www.s2ki.com/s2000/topic/1037636 ... o-results/
Testing on Civic Cup Car K20A by Tegiwa showing significant increase in HP using Nanodrive oil
https://www.tegiwaimports.com/blog/445/